Our fabulous Ballyprint team donned their gladrags to represent the company at the Ballymena Business Excellence Awards, and everyone was thrilled that we got a win!
Aaron Klewchuck, owner and managing director of Ballyprint, was named as Best Young Person in Business for the year – a reflection of all his hard work building the company and investing not only in the best and latest technology, but also in creating a strong and highly skilled workforce.
We're sure all our valued customers will join us in congratulating Aaron for an award that's very well deserved!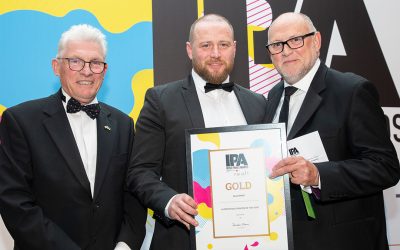 On 6th May 2022, the Irish Print Awards took place at the Crowne Plaza Hotel, Dublin Airport. Aaron Klewchuk – along with partner Sarah Connolly of Perfect Day Print – made the journey to the gala event and was proud to once more pick up not only the Gold award, but...