Ballyprint are delighted to welcome the latest addition to our hardworking team! Elaine Hamill steps into the new role of Managing Director at Ballyprint, and will be responsible for overseeing the day to day running of our very busy company. This is a key role, and will allow us to maximise efficiency and ensure that we always provide the best possible service. With the recent and very exciting acquisition of Impro Printing in Belfast, Elaine's appointment will allow our CEO – Aaron Klewchuk – to divide his time between overseeing both the continued expansion of Ballyprint and Perfect Day Print, and his ambitious plans to build on Impro's impressive past record and establish the company as a leading B2 print house. Our new dynamic duo of Aaron and Elaine are excited at the possibilities ahead for our growing family of companies, which will be working together to provide an unrivalled range of printing services to the whole country – and beyond!

Elaine has an impressive background in the retail industry over the past 30 years, and has spent over 20 years as a retail manager. She was with River Island for 19 years, and for the last 7 years has been in a management position with ScrewFix – we're very lucky that Elaine will be bringing all those years of experience to Ballyprint!
Elaine is also currently completing a Level 5 CIPD Diploma in People Management – which she describes as something of a challenge, given that she hasn't studied for anything since taking her A Levels! We're sure that she'll pass with flying colours, and look forward to Elaine working with us!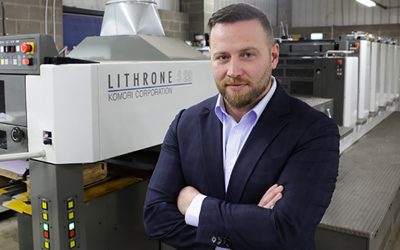 Aaron Klewchuk - owner and director of Ballyprint - is a man with a plan! He's always looking for ways to expand and innovate, so that our businesses - Ballyprint and Perfect Day Print - can offer more and better services to our valued customers. We now have a very...