Ballyprint are delighted to welcome the latest addition to our hardworking team! Elaine Hamill steps into the new role of Managing Director, and will be responsible for overseeing the day to day running of our very busy company. This is a key role, and will allow us to maximise efficiency and ensure that we always provide the best possible service.

Elaine has an impressive background in the retail industry over the past 30 years, and has spent over 20 years as a retail manager. She was with River Island for 19 years, and for the last 7 years has been in a management position with ScrewFix – we're very lucky that Elaine will be bringing all those years of experience to Ballyprint!
Elaine is also currently completing a Level 5 CIPD Diploma in People Management – which she describes as something of a challenge, given that she hasn't studied for anything since taking her A Levels! We're sure that she'll pass with flying colours, and look forward to Elaine working with us!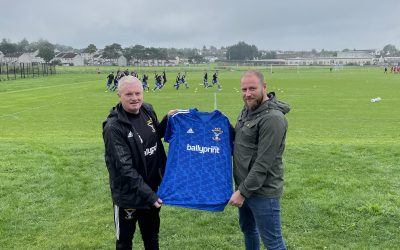 Ballyprint owner Aaron Klewchuk was proud to present the new away kit to Harryville Homers FC for the 2021/22 season. We've been involved in supporting Harryville Homers for about 7 years now, and we're proud to continue such a long standing relationship by continuing...