Aaron Klewchuk – owner and director of Ballyprint – is a man with a plan! He's always looking for ways to expand and innovate, so that our businesses – Ballyprint and Perfect Day Print – can offer more and better services to our valued customers. We now have a very exciting announcement to make, as Aaron has stepped in to acquire Impro Printing in Belfast. Impro has been a well established business for over 40 years, and has an unrivalled reputation for top quality sheet fed print. Aaron has ambitious plans to build on Impro's excellent track record, and aims to triple the company's revenue over the coming year. Impro will be a fantastic addition to Aaron's business portfolio, with each company supporting the other in a variety of ways.
With Impro based in Belfast, Aaron has also created a new Managing Director post for Ballyprint and Perfect Day Print – a post which has been filled with the hire of Elaine Hamill, who will oversee the day to day running of the businesses in Ballymena. This will allow Aaron to divide his time effectively between Impro, Ballyprint and Perfect Day Print, where his years of hands on experience are always of great value! Aaron and Elaine have already formed a close working relationship, and Elaine is excited to become a part of the team at such a significant time!
Ballyprint already has close ties with Impro Printing, and we often outsource large print run jobs to the Belfast company, which produces fantastic quality litho printing. As a primarily digital print company, Ballyprint found it more cost effective to send litho print to Impro for bulk jobs. With Impro now a part of the family, this arrangement will continue and expand – with Ballyprint supplying large format printing to Impro's customer base. Aaron is also implementing a series of investments in the equipment and the building, and the innovative PrintIQ system is being installed to manage workflow. The aim is to build a portfolio of companies which will provide customers across the whole of the country with a vast range of printed products – from large run litho to individual digital prints, and from large format outdoor signage to personalised wedding stationery. With special finishes including foiling, laminating, embossing, die-cutting – and much more – Ballyprint, Impro and Perfect Day Print will cover a huge range of products.
As business grows, so will the headcount. All existing employees have been retained, and a planned recruitment drive will add to the numbers over the coming months. The name too will remain. And as trade steadily grows, Aaron is always looking for new members of the Ballyprint team in Ballymena as well!
Aaron says: "This is a great opportunity for me to try to build Impro into a great B2 house. The two companies complement each other well, one can provide any litho work to the other and Impro can send large format work to Ballyprint. There's definitely a market for B2 litho. We have used Impro for out work as it's just 30 minutes up the road. I was not going to start a new sheetfed business from scratch, so this is a great opportunity. It's a great business, great quality and great service." Now Aaron is determined that Ballyprint, Perfect Day Print and the latest addition to the family – Impro – will have a great future as well!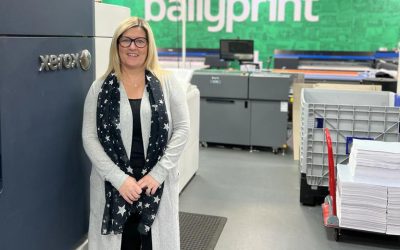 Ballyprint are delighted to welcome the latest addition to our hardworking team! Elaine Hamill steps into the new role of Managing Director at Ballyprint, and will be responsible for overseeing the day to day running of our very busy company. This is a key role, and...