We were thrilled to host an open event here at Ballyprint to welcome our new addition – the Xerox Iridesse digital press – and to show off it's incredible abilities to our customers and fellow print professionals. It was a fantastic opportunity to explore the potential of this new technology and discuss new ways to take print beyond CMYK with new white, silver and gold embellishments.
Our attendees were blown away by the huge selection of print samples we had on display, which showcased the beautiful finishes the Iridesse allows us to create, and opens up a new world of print possibilities. Embellishing print with white, gold and silver was previously only possible using spot inks on litho presses, so this new technology is truly revolutionary. Litho printing is used for larger print runs, but the Iridesse digital press enables us to provide these capabilities even on short print runs – so you can add a flourish even to a single print!
Also on show – and snapped up eagerly – was our stunning sample pack, which is crammed full of examples of all the print finishes the Iridesse can offer, as well as our range of beautiful paper and card stocks, special substrates, and additional processes such as laser cutting, foil blocking, die cutting, and much more. Sample packs are available on request, so get in touch with us by email or phone if you would like to take a look at just what we can do to make your print products really special!
Our thanks go to everyone who came along to the event, and especially to the representatives from Xerox for their continued support and enthusiasm as we embrace this wonderful new technology!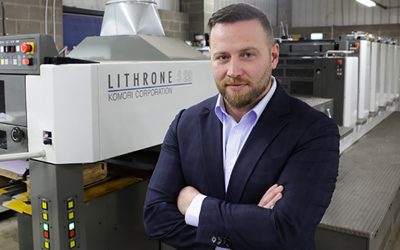 Aaron Klewchuk - owner and director of Ballyprint - is a man with a plan! He's always looking for ways to expand and innovate, so that our businesses - Ballyprint and Perfect Day Print - can offer more and better services to our valued customers. We now have a very...