Ten years ago today Ballyprint were featured in this article in the local paper. Managing director Aaron Klewchuk commented, "I'd no idea where this journey was going to take me and certainly could never have imagined Ballyprint would be where it is today!"
As with most startup companies, the early years involved a lot of hard work and late hours, but by providing a quality service to customers, Ballyprint went from strength to strength. The team has grown, and the company has moved premises as continued investment in new print technology called for more room to manoeuvre.
A decade on from commencing to trade, Ballyprint operates from spacious premises in a prime site on Pennybridge Industrial Estate in Ballymena, and continues to invest in technology that will provide the very best options and services to a growing customer base.
With the recent arrival of the massively impressive Xerox Iridesse digital press, Ballyprint is moving beyond traditional print to provide stunning metallic finishes and white text in addition to the normal four colour print. This fabulous new machine joins an impressive roster of equipment that is guaranteed to continue growing in the months and years to come.
Check out 'Our Story' in our 'About Us' section to see a timeline of Ballyprint's growth and development, and our 'Equipment' page for more information on the machines we operate, and what products they can produce for you and your business.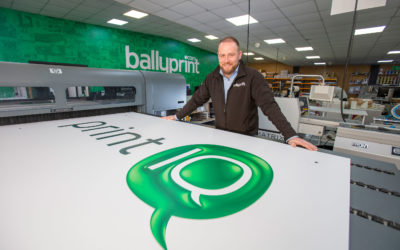 We never stand still! We're always looking for ways to stay ahead of the game by installing cutting edge equipment and technology to offer exciting new services and products to our customers. As part of that quest, we've spent years exhaustively investigating,...