We've always prided ourselves on a smart and efficient workspace here at Ballyprint, but with so many large machines already on our production floor – and more exciting and innovative equipment on its way – it's time to clean up – and think bigger!
Our carpeting has already been replaced with a stunning Tarkett Homogenous poly floor covering throughout the whole of the print hall, creating a sleek and static-free environment for all of our printing and finishing processes – but that's not all! 
We are always looking to the future here at Ballyprint and seeking new ways to provide the very best print solutions for our customers. New solutions need new equipment and new equipment needs more space! So along with our brilliant flooring we're transforming a storage area into more production space, with new walls and a ceiling to bring an underused space right into the heart of our buzzing workspace.
Our thanks go to Smallcost Carpets for supplying our new flooring, Stefan Calderwood for an amazing fitting job, and to Dean Calderwood Joinery for turning bare walls into a useable space!
Check back to see the completed job, and to find out what were going to be doing with all that new work space!!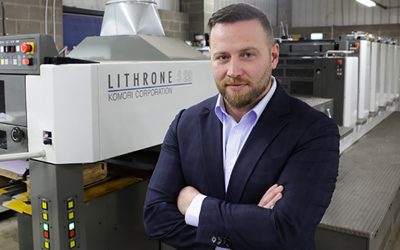 Aaron Klewchuk - owner and director of Ballyprint - is a man with a plan! He's always looking for ways to expand and innovate, so that our businesses - Ballyprint and Perfect Day Print - can offer more and better services to our valued customers. We now have a very...