As part of the ongoing commitment to investment, Ballyprint is delighted to announce another groundbreaking addition to our growing roster of state-of-the-art equipment.
Newly arrived to our Ballymena premises is a brand new JWEI Flatbed Digital Cutter, now installed (our thanks to Alan Keane from askcnc.ie for his technical expertise!) and ready to streamline the existing finishing process, as well as creating a whole new world of production possibilities for both existing and new clients.
The arrival of an HP Scitex flat bed printer in 2019 meant a huge increase in the speed with which we could output large format jobs, with the printer laying colour directly onto foamboard, corriboard, and other substrates. By adding the new digital cutting table to our facility, we can now take production to the next dimension – and beyond.
Aaron Klewchuck, owner and managing director of Ballyprint said; "Not only can we trim boards to size in a fraction of the time it takes to cut them by hand, but this new cutting table can cut a huge variety of materials to ANY shape quickly and precisely! This switches our production up to a whole new level, allowing us to accurately and quickly route shapes out of foamboard, corriboard, aluminium composite, cardboard – practically anything! We're very excited to find out just what we can do with this new kit!"
Taking pride of place in a newly upgraded section of our premises, the digital cutter certainly looks impressive, and as it swings into action it's reminiscent of something from a sci-fi movie! A compressor kicks in to create suction and ensure the board being cut doesn't move, while the cutting head moves back and forth at remarkable speed, guided by laser and connected to a dedicated computer where the artwork file is set up.
And Aaron is keen to stress that cutting and routing is not the limit for this new equipment – "We don't want our customers to think that this is just a one trick pony! Cutting, routing, kiss cutting, creasing and even plotting are all available to us, opening up a vast range of new production options for our customers."
"We have often printed a company logo on foam board and cut it to shape to make a decorative feature for offices, or cut a logo to shape on adhesive vinyl, and the new cutting table will make that an easier process for us. But it's the new possibilities that we're all excited about, such as packaging, where we can apply our customer's logos and branding to bespoke cardboard boxes. Usually branded packaging requires the customer to order in bulk at great expense, but we can offer you a made to order product in small batches with pricing to match!"
"I'm very proud of Ballyprint's track record of innovation – when we became the first printing company in Northern Ireland to acquire Xerox's Iridesse 6 colour digital press, we invested time and imagination into investigating the limits of the new technology so that we could really push the equipment to new limits. With our JWEI Flatbed Digital Cutter we will definitely continue that innovative approach to find new processes and new products that we can offer to our customers. As ever, Ballyprint aims to be THE one stop shop for printing in Northern Ireland!"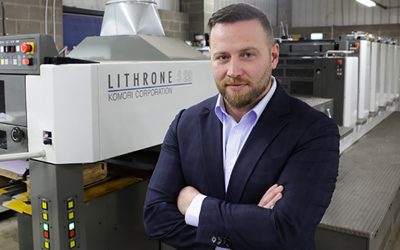 Aaron Klewchuk - owner and director of Ballyprint - is a man with a plan! He's always looking for ways to expand and innovate, so that our businesses - Ballyprint and Perfect Day Print - can offer more and better services to our valued customers. We now have a very...