We never stand still! We're always looking for ways to stay ahead of the game by installing cutting edge equipment and technology to offer exciting new services and products to our customers. As part of that quest, we've spent years exhaustively investigating, researching and road-testing Management Information Systems from about 50 companies all around the world to find our perfect fit – and we're happy to announce that we have a clear winner.
We love to be innovators, so we're very excited that Ballyprint will be the first company in NI & ROI to utilise the amazing system created by printIQ, a global provider of management workflow software (far more than just an MIS) who have been reaching new markets in Europe over the last year or so. The solution offered by printIQ promises to be everything we need for our future in print – but if you're not familiar with Management Information Systems you might be wondering what all the fuss is about. Most companies have some sort of MIS in place, for managing their workflow, invoicing customers, controlling stock and so on. We use our existing system to generate quotes for our customers and convert those into active jobs, inputting all the relevant information required to design, print and finish each job. However, printIQ differs greatly from other systems on the market. The others offer management information only. With printIQ we get a Management Workflow System (MWS), far more than just an MIS. This isn't just semantics; they know that companies need a solution that covers their entire business, not just a part of it. That's why printIQ goes far beyond the standard MIS functionality.
With printIQ as our MWS we will be able to do so much more, both for us and for you! With a brand-new Customer Portal, customers will be able to create their own quotes and orders, upload print ready artwork, track the production of their job, and pay – all online. Built in integration to our existing Enfocus Switch system means that artwork uploaded by customers will be checked to ensure that it's ready for print, with any problems flagged immediately. Everyone at Ballyprint will also be using the system in the same way to produce quotes and create print jobs, but with many more facilities in place to make all of our systems more efficient and seamless. End to end automated production means less time wasted checking the specifics of each job, as all the relevant information will be logged in the system when the job is created, from print quantity and paper stock to finishing, packing and shipping requirements. With printIQ we can automatically handle outsourcing, inventory and purchasing – keeping track of our stock levels and reordering when we run low!
It's yet another ground-breaking investment for Ballyprint – continuing to look to the future to make our business run more efficiently and effectively and to ensure that we offer the very best service to our valued customers.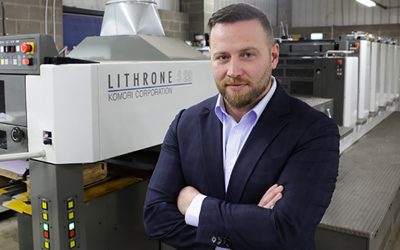 Aaron Klewchuk - owner and director of Ballyprint - is a man with a plan! He's always looking for ways to expand and innovate, so that our businesses - Ballyprint and Perfect Day Print - can offer more and better services to our valued customers. We now have a very...