It's one year since we first experienced lockdown, as the world reeled under the impact of Covid-19. With restrictions still largely in place and hitting many businesses incredibly hard, Aaron Klewchuk takes time to look back on a rollercoaster of a year, and how having the right equipment – plus a determined outlook – has put Ballyprint ahead of the game.

While many other companies have endured an enforced period of shutdown, Ballyprint has remained active – and in addition to providing our usual high quality print services, we've also taken the opportunity during some of the quieter times to upgrade our premises. Aaron explains, "We've refloored our whole production area – which was a bigger job than I could ever have imagined – to create a cleaner environment. We've also added an extra 1000 square feet of production space to house our latest investment, a 2.6m x 1.6m digital cutting table (pictured above), which joins our other equipment such as the 2 Roland TrueVis VG printers we recently added and a 3rd Heidleberg platen to allow us to increase our foiling capabilities."
Featured recently on the cover of Irish Printer Magazine, Aaron spoke at length about the lessons he's learned that have allowed him to adapt his business approach during these tricky times. While others have downsized, or unfortunately gone into enforced closure, Ballyprint continues to make significant investments, taking on the customer base of Belfast-based Fresh Graphics, as well as employing four new staff members. The company also gave something back when they gifted 3 and a half tonnes of surplus paper stock to local schools and charities.
There's no sign of Aaron slowing down any time soon – "We've implemented a workflow system utilising Enfocus Switch with impressive results, and this will be integrated into our next significant investment – a new Management Information and Workflow System created by printIQ. We'll be the first company in Ireland to partner with printIQ, which is really exciting, and will give us a massively streamlined and efficient automated end to end workflow."
"And that's certainly not the end of it! We have another two major pieces of kit arriving shortly which will see the launch of an exciting new business strand this summer. Watch this space… Ballyprint is only getting started!"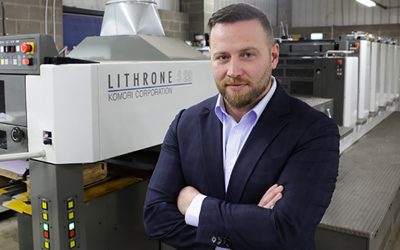 Aaron Klewchuk - owner and director of Ballyprint - is a man with a plan! He's always looking for ways to expand and innovate, so that our businesses - Ballyprint and Perfect Day Print - can offer more and better services to our valued customers. We now have a very...